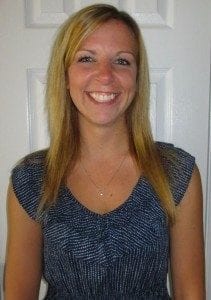 Dr. Lacey Jenson is the newest member of the Bedoukian Research, Inc. team! Lacey joined the Regulatory department at BRI in November 2016 with the role of Registrations Manager.
Lacey was a Post-Doctoral Fellow in the Department of Entomology and Fralin Life Science Institute at Virginia Tech under the supervision of Dr. Troy Anderson. She was leading research studies that focused on the characterization of drug transport proteins and ion channel physiology of insects with research interests spanning ion channel pharmacology, insecticide mode of action, cell biology and neurotoxicology.
Lacey received her PhD in Entomology and Nematology (2013) from the University of Florida under the advisement of Dr. Jeffrey Bloomquist. Her dissertation research focused on the characterization of insecticide target-site protein expression in hormonally-induced insect cell lines.
Dr. Jenson's previous education includes a Master of Science in Entomology in 2010 from Virginia Tech. Her thesis research was conducted on the development of a hormonally-induced cell assay for the highthroughput screening of existing and experimental insecticides. Lacey has also earned a Pre-Health Professional Bachelor of Science degree with a Minor in Microbiology from Iowa State University in 2007.
Lacey will be handling our semiochemical registrations with US EPA, Canada's PMRA and EU's Plant Protection and Biocide Regulations. She'll be representing us at future BPIA and IBMA meetings so please introduce yourself. We're thrilled to have Lacey join us!